Si on a bien un gros avantage à Liège, c'est d'être à une petite vingtaine de minutes de Maastricht (oui, je sais, c'est contradictoire). En moins d'une demi-heure, on peut se dépayser totalement et passer de nos places glissantes aux jolis petits piétonniers jalonnés de pavés à l'ancienne (qui tiennent) de Maastricht. On a aussi accès à des marques impossibles à trouver au pays de la gaufre telles que Steve Madden, Origins, Smashbox, Jo Malone (merci Douglas!) ou encore Lush (Oui je sais, j'y étais et ils se sont bien plantés à Liège. Pouet.). Sans parler des nombreuses petites boutiques de déco ou de créateurs ainsi que le V&D et le de Bijenkorf. Finalement, ils ne manquent pas non plus d'activités culturelles telles que le festival de cinéma (en anglais, néerlandais et français siouplaîtbien) ainsi que de nombreux concerts et festivals (souvent gratuits). Et qui n'est jamais allé faire du shopping fin mai en tombant totalement par hasard le jour de la fête de la Reine? Oui, c'est du vécu, j'ai terminé ma journée les sacs aux pieds à boire des bières avec des hollandais que je ne connaissais pas.
Belgium is known to be one of the tiniest countries in the world. Although it has some inconvenients such as less access to big brands, we also have the advantage to always be next to, at least, three countries (France, Germany and The Netherlands). Concerning Liège, Maastricht is thus the nearest foreign city. This allows us to dive into a totally different atmosphere within less than 20minutes ride. Of course, Liège and Maastricht are not a Paris or a London but their main positive aspect is that they offer the possibility to tourists to discover two different countries in less time they would need in order to get from the Eiffel Tour to Le Trocadero.
Maastricht, c'est donc un moyen facile et peu cher de se faire touriste, de se changer les idées et de se dépayser. Personnellement, c'est le genre de petite ville dynamique qui me donne des fois envie d'y rester plus longtemps qu'une après-midi. Juste histoire de prendre le temps, de ne pas penser au parcmètre (la seule et unique prune de ma vie c'est Maaaaastricht!) et de pouvoir sortir un peu de mes sentiers battus. Mais je n'ai jamais bien su où pouvoir poser ma paire de pantoufles jusqu'à ce que, totalement par hasard sur Instagram, je fasse la connaissance de InteAlter Maastricht. Plus précisément, de Roger Haan.
Maastricht and Liège are two completely different cities, each one offering a wide range of cultural activities (note that Maastricht is way more ahead than Liège concerning languages adaptation), shops, designers and cosy places where to chill out. Maastricht though, seems to offer a wider choice concerning brands such as Lush, Steve Madden, Smashbox, Origins, (thanks to Douglas!). Two shopping centers (de Bijenkorf and V&D) are easy to access and I'm always in love with all the small home interior boutiques popping around the narrow streets of the city center. Moreover, it's impossible to deny that The Netherlands are way more open to English-American influences and are always the first of our neighbour countries to go for it (first to welcome Lush, Sephora – which isn't there anymore but you got it- Burger King, KFC, …) . Maastricht is definitely a city full of charm and I've always thought that it would be nice to stay there for more than one afternoon. Just so that I could have more time to go out of the usual streets that I already know for so many years now. I know, I know, we have some very nice places in Liège too but you know what they say about the grass, the greener and the other side…
InterAlter Maastricht est en fait un duo d'architectes basés à Maastricht et qui aiment se creuser afin de pousser les limites de leurs innovations. Lors d'un appel à projets lancé par le groupe La Bergère (déjà propriétaires de plusieurs hôtels à Maastricht et Amsterdam), Roger, en plein milieu de sa dernière année d'architecture, a décidé de poser sa candidature sans trop y croire. Il n'avait encore aucune réputation, rien à y perdre… Ce concours lui permettait donc d'être aussi fou qu'il le voulait. A sa grande surprise, le gaillard a gagné et est ainsi devenu l'architecte d'un hôtel avec un budget limité où l'originalité devait primer. Limite, le cadeau empoisonné quoi!
On my way back from one more shopping afternoon in lovely Maastricht I "accidentally" met InterAlter Maastricht profile on Instagram and we got on really well from the very first exchange. Inter-Alter Maastricht is actually a partnership between two architects in love with their town. They are always ready to challenge new places and new ideas again and again with a true passion both for their job and city. However, I mainly talked with Roger Haan who suggested to introduce me to his work at the Kaboom Hotel. What a coincidence isn't it?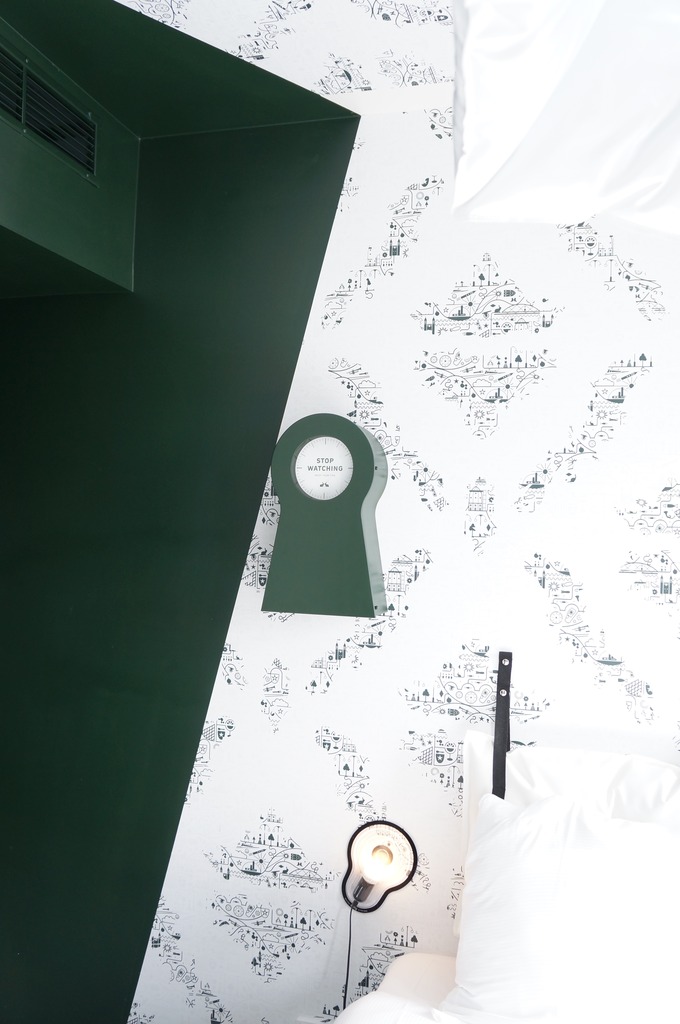 Au-delà du fait que c'était de la rénovation (ceux qui ont été dans les travaux comme moi savent bien qu'il est beaucoup plus compliqué de rénover que de construire), plusieurs critères économiques étaient impératifs. L'hôtel devait être abordable mais cosy, moderne mais pas froid, beau mais facile à entretenir et surtout, ouvert au plus large panel de clientèle. Du petit couple de retraités aux groupes de jeunes cherchant à faire un enterrement de vie de jeune fille/ garçon, tout le monde doit pouvoir y trouver son compte. Et ça a été un vrai défi que Roger a relevé haut la main grâce à différentes astuces qui font la beauté de l'Hotel Kaboom.
After a competition between several architects, the La Bergère Group (owner of several hotels in Maastricht and Amsterdam) chose Roger, who was still in his last year of studies (although he already had a great experience in design) and nothing to loose. Roger had thus to go with the complete work reform ( those who've been through renovation know how much difficult it is than building a new place from nothing) with restrictions such as space or saving money. The Kaboom Hotel had to be affordable but cosy, modern but not cold, beautiful but easy to maintain and most of all, suitable to a large range of customers. From a young groups of people intending to throw a bachelor party to a business man in transit, everybody had to feel like they suited in the hotel. It's been a great challenge that Roger passed with success thanks to different genious ideas which are now a major part of the charm of the Kaboom Hotel.
Etalé sur plusieurs étages au-dessus et autour du café Douwe Egbert qui fait face à la gare, les chambres changent de couleur en fonction de l'étage où elles se trouvent tout en gardant une uniformité visuelle des plus surprenantes. En effet, le papier peint est LA caractéristique du Kaboom Hotel. Découlant d'une des nombreuses exigences économiques, Roger a décidé de choisir un papier industriel tel que ceux utilisés dans les hôpitaux. Seul hic: ils sont généralement moches. C'est là qu'il décide de travailler avec la personne en charge du design et de réaliser un dessin qui sera superposé. Celui-ci est blindé de petites références tant du Maastricht d'aujourd'hui qu'à sa grande époque. Le travail de superposition des dessins est impressionnant et peut garder l'attention de quelqu'un pendant de longues minutes. Ce papier me fait penser à une sorte de toile de Jouy minimaliste et moderne qui a aussi son histoire à raconter en fait. Il a été posé dans son entièreté. Pas de raccord, le papier prend tout le mur! En plus de son extrême résistance qui permet de ne pas le changer trop souvent (complètement lavable), il évite aussi aux marmots de s'amuser à le décoller.
Extended on different floors around the Douwe Egbert café which faces the train station, rooms change of colors according to the floor where they are located. However there's a main visual identity which is, to me anyway, the main guideline in the hotel and that lies in the cover paper used in the hotel rooms. In order to get something which would require less maintenance, Roger Haan thought of some industrial wall paper like the ones used in hospitals. Washable almost to the infinity and beyond and highly-resistant, there was nevertheless one big problem: they were everything but aesthetic. He thus thought of working with the person in charge of the design and what came out of this is a wonderful cover paper mixing old patterns and modern details. Indeed, it's actually two cover papers which can be seen in transparency full of details referring to the great period of the Netherlands as well as more modern references. A little bit like a modern minimalist toile de Jouy which aims is to tell a story.
Toujours dans un souci d'économie, le choix des meubles a été pensé avec beaucoup de génie. On a donc une penderie accrochée au mur pour permettre aux femmes de ménage d'avoir moins de meubles à contourner, des douches à l'italienne, des têtes de lits amovibles, des tables d'appoint faites selon la dimension de chaque chambre… Même les chambres pour personnes à mobilité réduite sont en fait des chambres normales qui sont modulées (les lits sont alors changés) afin de ne pas perdre de capacité de réservations. Toutes ces petites choses ont permis à l'hôtel de pouvoir offrir des chambres qui sont toutes équipées de matelas de haute qualité (qui ne rêve pas des matelas d'hôtels bien durs et confortables?) et de pommeaux de douche pluie par exemple.
Still bonded to that "saving money" restriction, choices had to be made in order to provide some luxurious comfortable elements without spending the equivalent of Kim Kardashian's wardrobe capital. To get high quality mattresses or rainy shower heads was, for exemple, a priority. So the furniture were chosen and designed with great care. The usual wardrobe is turned into a rod hanging on the wall surfing on the minimalist trend which is invading all Swedish furniture fans while the tables are designed to be both functional and beautiful. Everything is thought in order to save time to the cleaning women and allow them to go easier and faster into the rooms. The bedheads can be removed and even the rooms for disabled persons are actually normal rooms which can be turned into disabled people rooms.
En ce qui concerne les parties communes, le hall d'entrée est particulièrement interpellant avec un joli mélange de béton brut moderne qui cohabite avec un superbe bleu nuit ponctué de dessins à la craie rappelant la Hollande du temps du colonialisme. Régulièrement, des étudiants de l'école d'art de Maastricht sont choisis pour venir redessiner la déco avec pour mot d'ordre: amusez-vous!
That mix of antique and modern references is also present in the common parts of the hotel with an original main hall made of raw concrete next to a lovely night blue part illustrated with designs made of chalk, again, referring to the great period of The Netherlands where you can guess some winks to the colonialist period. Halls were conceived with a long-term view including details such as lights above each door (finally someone who thought of me looking for my keys without looking like mole!) and stone floor where people tend to rub. Finally, a lovely terrace is taking place at the very heart of the hotel with an open-air cinema space which will welcome lovers of the night with silent movies without disturbing people who want to go to bed early.
Les couloirs sont aussi pensé sur le long terme avec des lumières placées stratégiquement (et enfin, de la lumière au-dessus des portes pour pouvoir chercher sa clé dans son sac sans avoir l'air d'une taupe), du carrelage sur les murs pour limiter les frottements aux endroits habituels, … Ici encore, on conjugue l'investissement, le pratique et le beau. Finalement, une superbe terrasse a été aménagée avec un espace cinema plein air qui permettra, dès les beaux jours, des projections de films muets afin de distraire les plus nocturnes sans pour autant déranger les couches-tôt.
Le Kaboom Hotel est agréable, convivial et convient autant à un couple, une famille ou un groupe de plusieurs personnes qui exigent de tous dormir ensemble. Mais clairement, là où il est intéressant, c'est dans tous les petits détails qui en font une véritable prouesse de sens à la fois pratique et esthétique transpirant la passion de Roger.
The Kaboom Hotel is definitely welcoming, modern and interested into making people discovering Maastricht with a new perspective. People such as families or single travelers will find it suitable to their needs and its position right next to the train station and 10minutes walk from the city center is a great plus. But to me, what makes it really interesting, is that collection of small aesthetic details spread around the hotel which communicates Roger Haan's passion.